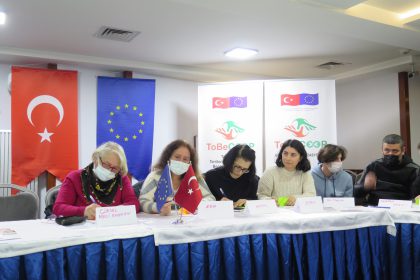 Within the scope of our ToBeCOOP project, which constitute the second session of the workshops planned for capacity building for the benefit of our stakeholders in our region saw the realization of 5 workshops, held in Rize between March 14-18.
Different Italian and local experts gave trainings on various topics such as; Business planning, Youth & innovative cooperatives, Women participation & Gender Equality, Cooperative Principles and Generational turnover.
The workshop was addressed to the representatives, managers or members of cooperatives in different sectors operating in our region, and brainstorming was carried out among the participants through workshops.
Cooperatives mentioned below of our region showed great interest in the workshops.
RIZE AGRICULTURAL LOAN COOPERATIVE NUMBER 47
ANZER-BALLIKOY AGRICULTURAL DEVELOPMENT COOPERATIVE
RIZE CATTLE BREEDERS' ASSOCIATION
EBRULI ELLER WOMEN'S ENTERPRISE PRODUCTION AND BUSINESS COOPERATIVE
RIZE WOMEN'S HANDICRAFTS WOMEN'S ENTERPRISE PRODUCTION AND BUSINESS COOPERATIVE
NUMBER 8 CITY MINIBUSES MOTOR TRANSPORTERS COOPERATIVE
RIZE PAZAR NUMBER 4 MOTOR CARRIERS COOPERATIVE
ARCHEN WOMEN HANDICRAFT AGRICULTURAL DEVELOPMENT COOPERATIVE
HEMŞİN LIFE PRODUCTION AND BUSINESS COOPERATIVE
MECI AGRICULTURAL DEVELOPMENT COOPERATIVE
MECI EMEK HOUSE WOMEN'S COOPERATIVE
ÇAYELİ WOMEN ENTREPRENEURS COOPRATIVE
AYDER WOMEN'S ENTERPRISE PRODUCTION AND BUSINESS COOPERATIVE
COLDWATER PRODUCTS COOPERATIVE
KALKANDERE WOMEN'S ENTERPRISE AND PRODUCTION COOPERATIVE
53/8 MARKET AGRICULTURAL DEVELOPMENT COOPERATIVE
GUNDOGDU FISHERY PRODUCTS COOPERATIVE
RIZE TEA ACADEMY
FINDIKLI DISTRICT ORGANIC FRUIT PRODUCERS ASSOCIATION
RIZE CHAMBER OF ACCOUNTANT AND FINANCIAL ADVISERS
24th REGION TRADES ARTISTS CREDIT GUARANTEED COOPERATIVES ASSOCIATION.
Besides the cooperatives; various academicians and students from Recep Tayyip Erdoğan University, as well as teachers, master trainers and trainees from Rize Provincial Directorate of National Education and Rize Public Education Center participated to the workshops.
If you want to discover more about the training you can watch our registration on YouTube.