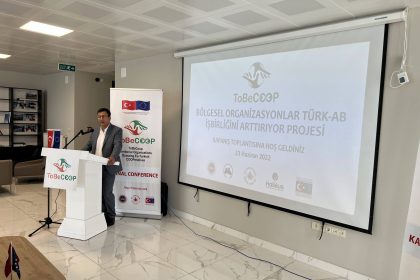 Our project final conference was held on Thursday, June 23, 2022, with the wide participation of our project associate institutions, stakeholders and guests.
Our meeting was attended by the Vice President of the National Cooperatives Union of Turkey and Chairman of the Central Union of Fisheries Cooperatives (Sür-Koop), Ramazan ÖZKAYA, Representative of the European Cooperatives Union Mathilde DELABIE, Rize Provincial Agriculture Provincial Director Murat GENÇ and Provincial Deputy Director Selda DALGIÇ and the Provincial Rural Development and Organization Branch Director Fatma KARABULUT, Deputy Chairman of Fisheries Cooperatives Central Union (Sür-Koop) and S.S Artvin-Rize Fisheries Cooperatives Regional Union President Barış ZAMAN, Eastern Black Sea Development Agency Rize Investment Support Office Coordinator Dr. Fatih ÖZDEMİR and the beneficiary cooperative representatives of our local project and guests participated.
After the opening speech of our Project Coordinator Prof.Dr.Göktuğ DALGIÇ, Italian project partner Halieus Project coordinator Gabriele VERGINELLI gave information about the mutual support between Italian and Turkish Cooperatives and the cooperation between Turkey and Italy in the past and project studies. After the general presentations about the project activities by Ahmet TAN, Project Local Cooperative Expert and S.S. Information was given by Hülya CERRAHOĞLU, Chairman of the Ebruli Eller Women's Initiative Production and Business Cooperative. Ramazan ÖZKAYA gave information about the national cooperatives network and the importance of cooperatives and cooperatives in Turkey. Mathilde DELABIE gave information about the support of cooperatives and cooperatives in Europe with her speech. As an example of success in a local cooperative, the establishment and formation processes of Gündoğdu Aquatic Sports Center were explained by the head of the cooperative, Bilgin KOPUZ. Eastern Black Sea Development Agency Rize Investment Support Office Coordinator Dr. Fatih ÖZDEMİR talked about the contribution of development agencies and public supports to cooperatives.
After the question and answer session of our project closing meeting, our project coordinator Prof. Dr. Göktuğ DALGIÇ thanked everyone for their participation and ended with a group photo shoot.